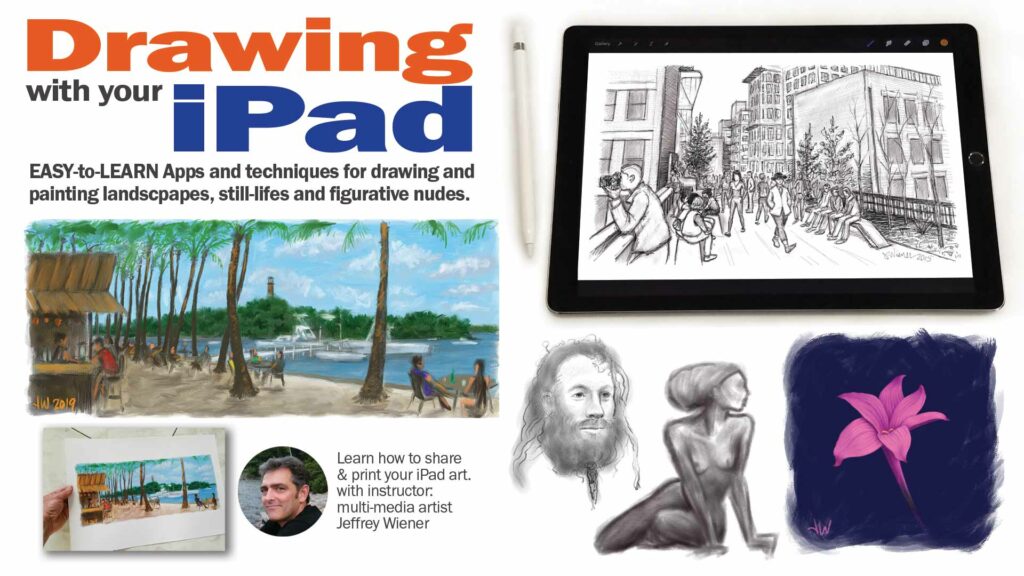 Join me in warm, sunny South Florida this November 20th, 2019 for a SIX-Hour workshop: "Drawing with Your iPad".
First, we'll cover the basics for using the APP "Procreate", the most popular APP for drawing and painting on the Apple iPad. After a lunch break, we'll use our iPads to capture Still-Lifes, Gestural Poses and detailed Figurative Nudes, colorful landscapes captured "en plein air", and narrative animations that we will export as videos. Finally, we'll cover how to print out your digital artworks, and share them to social media directly from the Procreate APP.
PRICE: $95. Members, $125 Non-Members
TICKETS: check made payable to PBWS send application to
Steve Philbrook
7128 Deer Point Lane,
West Palm Beach, FL 33411

Questions call Steve Philbrook: 561-632-0812
Email: philbrookstudio52@gmail.com
WORKSHOP LOCATION:
Boca Raton Community Center
150 Crawford Blvd, Boca Raton, Fla
12749
CLASS SCHEDULE:
Session One: 9:00 am – 4:00 pm
One hour lunch break for eating and chatting with the instructor.
REQUIREMENTS:
Students must have the APP "Procreate" installed on their iPads prior to class. iPads must be charged. Charge your Apple Pencils too. Bring your charger for charging up during the lunch break. Click to EMAIL ME if you have any questions about this class>