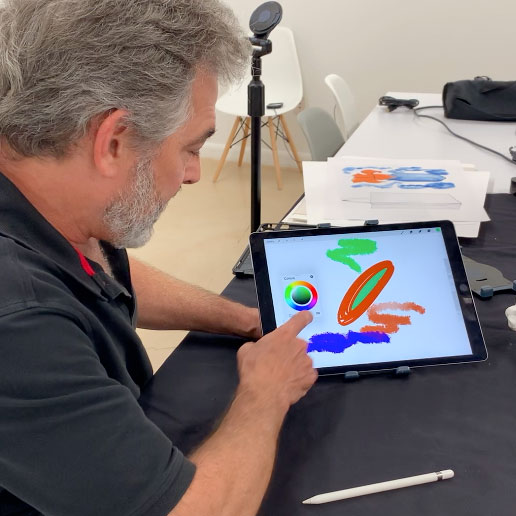 Artists, Designers, Marketing Pros, Do-It-Yourselfers… Learn how to create and animate graphics for promotional purposes on Social Media and the Web. My Video Classes focus on teaching you the basic knowledge and software skills set needed by creative entrepreneurs and professional artists.
Adobe's "Creative Suite" of popular digital production applications is used by most professional multimedia designers. My online classes will show you how to use Photoshop, Illustrator, Premiere, and a few of Adobe's other professional apps to make your own professional-looking graphics and animations. I also offer video classes that teach how to use your iPad to make web-ready graphics and animations, as well as high-resolution art, using "Procreate" the #1 iPad application for creating digital art and animations.
---
How It Works
Sign Up for Newsletter
You will receive Class Announcements from me on upcoming Live Events on Facebook as well as new tutorial videos I have posted on YouTube. Follow the links to an online class. Classes come in several formats, with free and paid options. Send me an email to join my mailing list.>

Get Updates on Classes and new Video Posts
The Newsletter will explain the class requirements. I won't be able to take any questions during Live Events on Facebook, but I will respond to your emails after class. You can also schedule a one-on-one class with me using Skype or Google Hangouts. Contact me to Schedule a personal, one-on-one class.>

Request a Class Customized for Your Needs
Is there something specific you want to learn? Send me an email or schedule a class. Entrepreneurs always need to add to their skill sets, my 30+ years in the "Digital Graphics & Design" business offers plenty of software skills to teach. Send me an email to discuss your goals.>
---
Videos
Testimonials
"Jeffrey Wiener's iPad workshops changed my life. They are easy, clear, powerful, creatively freeing. I never thought I could do what Jeff taught me to do. He opened my eyes to a whole new world and he can do that for you, too! Give, it a try!"
Sherry Camhy, New York.
Sherry Camhy is an award winning artist who teaches Life Drawing at the Art Students League of New York, the School of Visual Arts, New York Academy of Art.
"Taking Jeffrey Wiener's series on using "procreate App" greatly enhanced my abilities. Students with different levels of experience learned how to increase their proficiency. Great teacher. Great artist."
Cherie Saleeby
Artswarehouse Studio 15, Delray Beach, Fla.