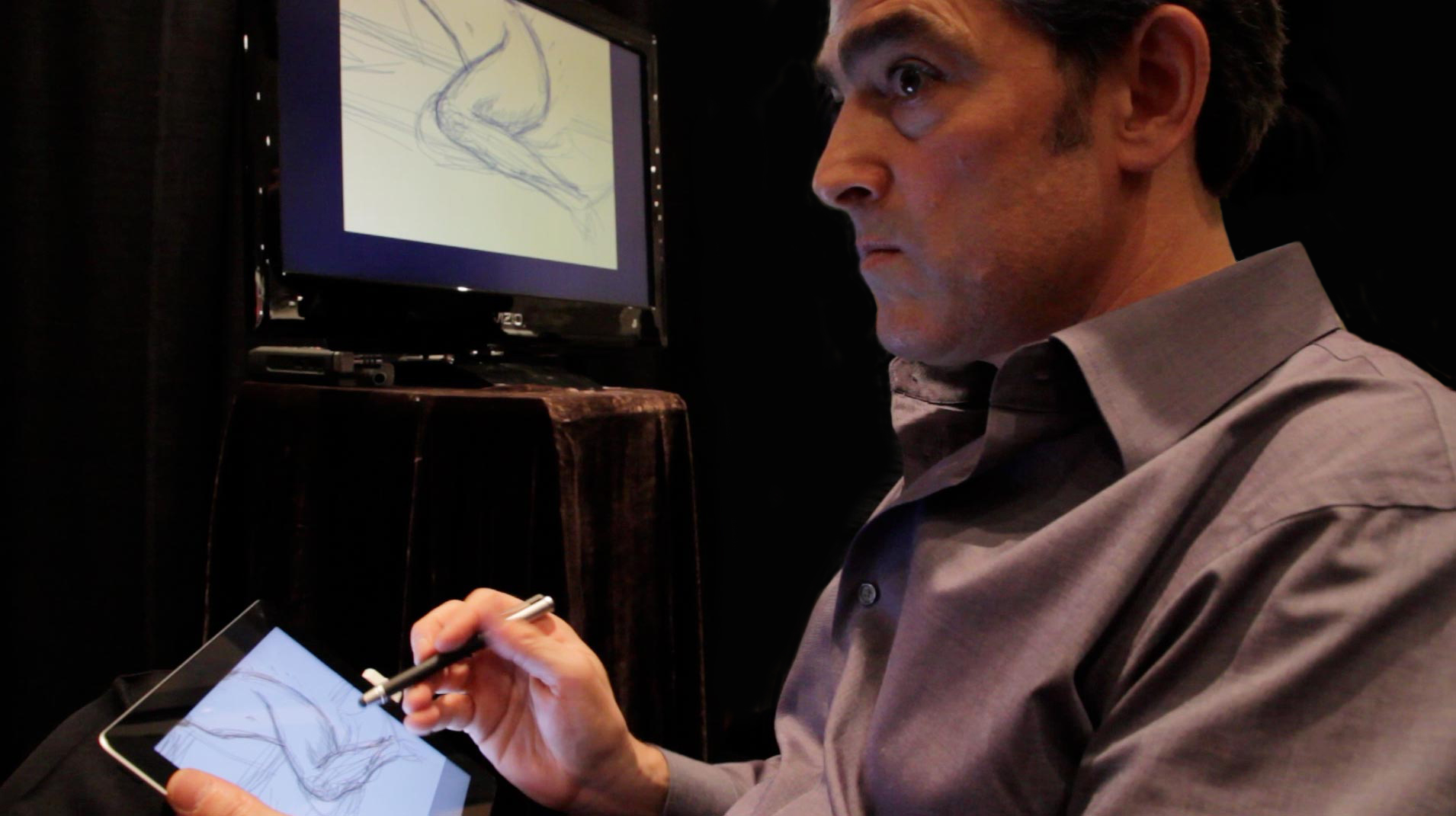 Jeffrey Wiener was born in Miami, Florida in 1961, and raised in South Florida. He began drawing intensely detailed drawings by age 5, and by his early teens he was creating large scale pencil drawings, and taking commission requests for illustrations and portraits from his mother's friends. With art books in the house as a reference for historical information – if not direct inspiration – Jeffrey was influenced by the socially-active realist painters from mid-19th century: Diego Rivera, Thomas Hart Benton, Grant Wood, Paul Cadmus, Picasso, and the quixotic MC Escher. Each of these artists had a strong influence on Wiener's sensibilities and understanding of Art's purpose in history and the role of the artist in culture.
During high school, Jeffrey apprenticed in the busy interior design studio of a family friend, where he was trained in the various techniques of the decorative arts: faux finishes, natural scenes with flora and fauna, all employed in producing large hand-painted murals. Wiener helped produce numerous decorative artworks for wealthy south florida home-owners, including the celebrities Barry Gibb and the Saudi Prince Sheik Al-Fasi, both of whom had mansions on Star Island in South Miami Beach. During his years in college at Florida State University, Wiener focused on learning a variety of traditional techniques for print-making, creating many Woodcuts and Limestone Lithographs in his college years. This early professional experience and technical knowledge gave the young artist confidence to take on large scale projects, and gave him the discipline to treat art as a business throughout his career.
Since early childhood, Wiener traveled numerous times to the Middle East with his father LeRoy and Israeli stepmother. This experience helped Wiener develop a deep connection to his Jewish heritage and the land of Israel, often represented in his more serious paintings. During college, Wiener spent a semester studying art history in Florence, Italy and traveled extensively throughout Europe, absorbing the great works of Western Art. After graduating from Florida State University with a Bachelor of Arts, he began to exhibit his paintings, drawings, lithographs and woodcuts in juried art competitions around the Southeastern U.S., exhibiting works that explored the moralistic and spiritual themes of the two religions he was raised within: Judaism and Christianity.
Jeffrey Wiener moved to New York City in 1986 to pursue his professional and artistic goals. During the late 1980's and early 1990's, he exhibited his drawings and paintings in many of the smaller galleries throughout Soho and the East Village. He continued to explore themes of faith and spirituality in the age of AIDS, which he displayed regularly at the CoOp gallery Ward Nasse.
While many of his works were dark, brooding visualizations of apocalyptic themes, he also produced several bodies of figurative works made up of smaller paintings and drawings on paper. One series entitled Shared Spaces featured couples, posed together in small "containers" and often locked in intimate or vulnerable embraces. Jeffrey also began experimenting with interactive/animated artworks and reproduced several of his paintings (The Sacrifice of Isaac, 2001, acrylic on wood, 80″ x 36″) in the form of animations with voice-overs, motion and sound effects.
Jeffrey Wiener entered the world of information design in 1993, at the start of the Internet Age. After teaching himself several coding languages, he began building the first websites for several large publishing clients such as Scholastic and PCMagazine. A growing roster of advertising agency clients allowed him to establish his first multimedia design firm Jeffrey Wiener Studio in midtown Manhattan later that year. In 1993, Wiener also launched his first online gallery (www.wienerart.com) where he showcased his artworks and interactive projects to the public. During the following decade, Wiener worked as a Creative Director for several highly successful eCommerce, entertainment, and community-based website companies, including the popular multi-faith website Beliefnet.com.
After his own personal experience in New York on 9/11, Jeffrey Wiener refocused his thinking on art and business goals, and launched his online marketing company Dangerous Media Productions (www.dangerousmedia.com), an interactive design consultancy that specializes in strategic digital marketing. The company Dangerous Media currently develops and manages websites for a number of clients in business, publishing, music and fashion, including TheGreatNude.tv, a website devoted to the supporting the Figurative Arts. Launched in 2007, TheGreatNude.tv and TheGreatNude YouTube Channel now have over 25,000 subscribers and over 18 million video views. He is also the founder and Creative Director of Young Mind Interactive, a publisher of educational eBooks, games and digital learning tools.
After suffering a heart attack and cardiac arrest in the summer of 2016, Jeffrey Wiener relocated back to South Florida, where he continues to create and teach art and further explore the use of mobile technologies for drawing and painting. He regularly posts his digital artworks, mobile photography and thoughtful musings on Instagram and Facebook.