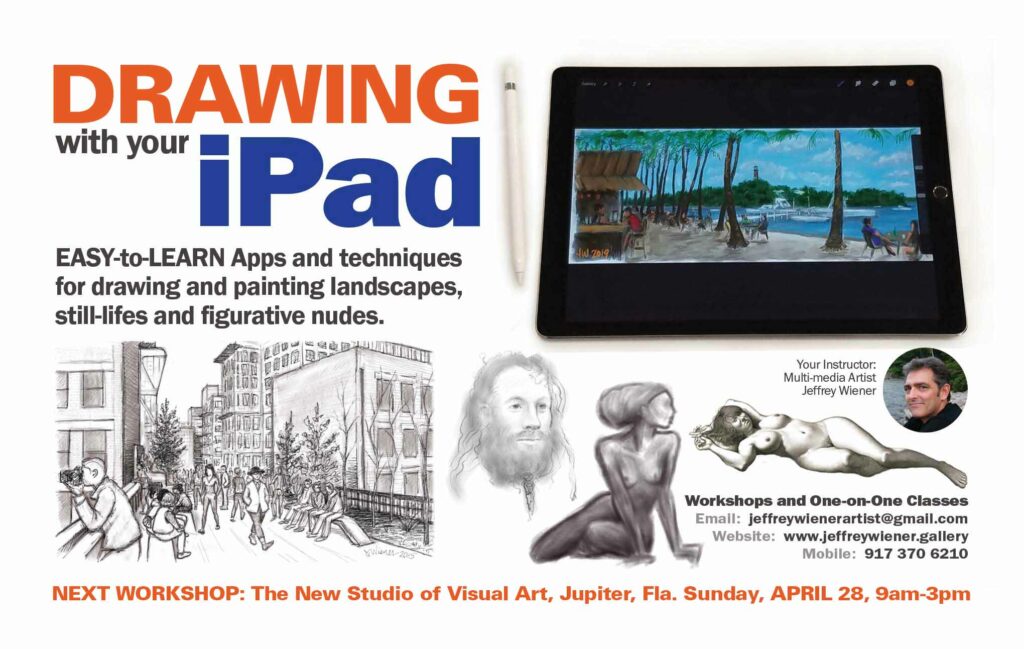 Join me at The New Studio of Visual Arts in Jupiter, Florida this April 28th, 2019 for a four hour/ two-part workshop: "Drawing with Your iPad".
First, I'll give a presentation of the creative possibilities with the iPad by showing the drawings, paintings and animations created using this amazing drawing tool. Then we'll cover the basics for using the APP "Procreate", the most popular APP for drawing and painting on the Apple iPad. After a light lunch at noon, we'll dive into how to use these mobile art-making devices to capture still-lifes, gestural poses and detailed figurative nudes, colorful landscapes captured "en plein air" and even narrative animations exported as videos. We'll also cover how to print out your digital artworks, and share them to social media directly from the Procreate APP.
Requirements: Students must have the APP "Procreate" installed on their iPads prior to class.
Price: $150.
Session One: 9:00 am – 12:00 pm
Session Two: 1:00 pm – 3:00 pm
Workshop Location:
The New Studio of Visual Arts
1615 South Cypress Drive, Suite 1
Jupiter, Florida
33469
Telephone: 561-295-5712
Website: https://www.thenewstudiova.net
Click to EMAIL ME any questions>